Attach Downloadable Files to Ballot Questions
Just like email, you can add attachments to your ballot questions. This allows you to provide voters with additional information/details about the election and what they're voting for.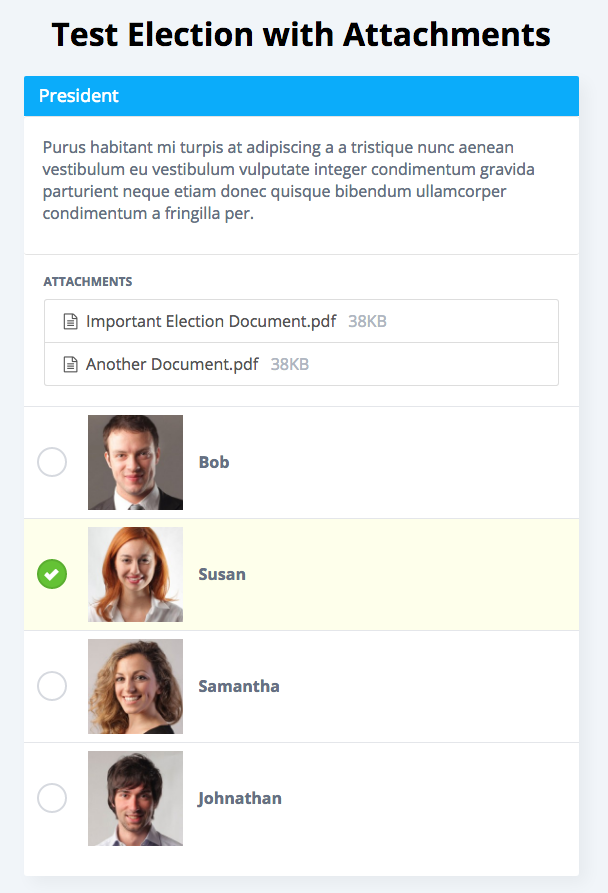 How to Add Attachments
To add attachments to ballot questions, follow these steps:
Create your ballot question
Click "Edit" on your ballot question (see: How to Edit a Ballot Question)
On the edit ballot question screen, look for the "Attachments" section and click on the blue "Select Files" button.
Select the file you want to attach to the question (see limits section below)
Your file will automatically upload
Repeat to add more attachments
How to Delete Attachments
You can delete attached files by clicking the red trash button next to the file's name. Files can only be deleted while the election is in "Building" mode.
File Types and Limits
Election must be in "Building" mode
The file types accepted are: .jpeg, .gif, .png, .pdf, .doc, .docx, .xls, .xlsx, .csv, .ppt, .pptx, .txt
Maximum file size 3MB*
Maximum of 3 of files per question*
* To have this limit raised, please contact support.
Auto-Deletion Policy
All attachments belonging to ballot questions will be automatically deleted…
…immediately following the deletion of the election
…60 days after the creation of the attachment for elections that remain in the "Building" state
…30 days after the election ends (is in "Completed" or "Archived" state)