About the Election Runner Mobile App
The Election Runner iOS & Android mobile app is available as a free download on iTunes & Google Play. The purpose of the mobile app is to provide voters with an easy way to find an organization and its currently running elections.
The mobile app is not required for voters to vote on their mobile device. Election Runner is a web application, which means voters can access elections from any internet connected device by using their device's web browser (Safari, Chrome, Firefox, etc.). The mobile app can be a convenient way for voters to search for and find an organization's elections, but it is not necessary for the majority of use-cases.
For example, if an election administrator provides an email address for each voter (see: Voter Email Addresses), then they will not need to download the Election Runner app as the link in their email will open in their device's browser.
How to Enable the Mobile App
In order for an organization to appear in the mobile app search results the mobile app has to be enabled under the account settings. Note that a location must be set under the account's organization settings (see: Organization Settings) before attempting to enable the mobile app.
Login to Election Runner and Click on "Settings" at the top of your account dashboard.
Click on "Mobile App" on the account settings menu.
Click the toggle to enable/disable the mobile app. If the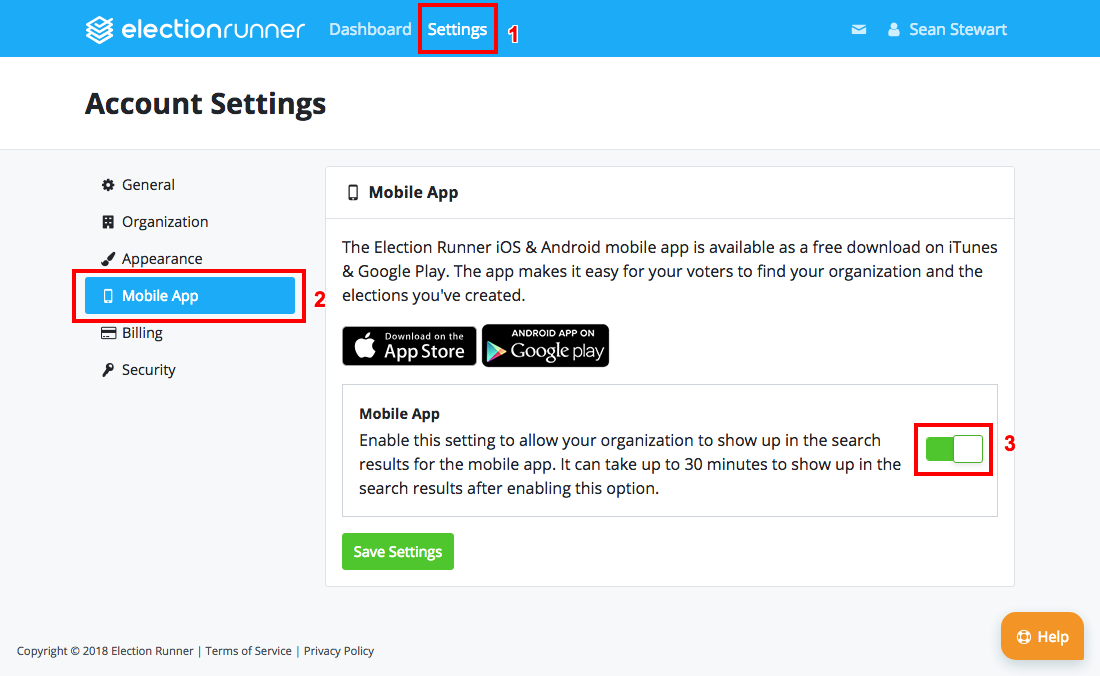 How the App Works
When the app is opened voters will see a search form that allows them to type in the name of their organization. As they type the list will update with any matches showing the name of the organization and the location provided in the organization settings.
After finding and tapping on their organization, a list of all available elections will appear. Tapping on one of the elections will open the election in the device's default web browser.
| Organization Search | Organization's Elections |
| --- | --- |
| | |
Additional Notes
It can take up to 30 minutes for an organization to be added/removed to the search results. If using the app, please plan accordingly.
The "searchable" setting is set back to "disabled" if a user has not logged in within the last 18 months.